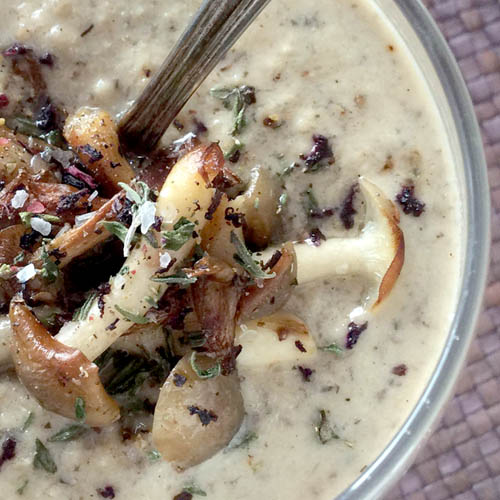 As I continue my journey into not feeling like crap, I've been amazed at how the "can't haves" have transformed into a stunningly deep relationship with food. I'll write more on this later, but this soup is truly soul filling. It takes about a half hour to make and serves 8 – 10 depending on serving size.
Creamless Cream of Mushroom Soup
16oz sliced brown mushrooms
8-12oz specialty mushroom (shiitake, portobello, porchini, oyster)
6oz small, thin mushrooms (like enoki or chanterelle, thinly sliced)
6c chicken or vegetable stock (homemade is best)
1c cashews
bacon grease*
1T white wine vinegar**
1t dried mustard
2t onion powder
salt to taste
1t fresh thyme
pepper
1/2t fresh chives
Bring a cup of water to a boil. Place cashews in a bowl, pour water over and cover. Leave for at least an hour and up to overnight.
Cook the sliced mushrooms and the specialty mushrooms in the bacon grease over high heat in a large pan. When the mushrooms have browned and shrunk in size add in the stock and scrape any bits of brown off the bottom of the pan. Let stock and mushroom mixture simmer for about 15-20 minutes.
In the meantime, drain off and save water from cashews and put in a blender or food processor. (I highly recommend a Ninja. It's soooo good at this kind of thing.) Process the nuts until smooth, adding in the saved water as needed. When the mixture is smooth and creamy, add in the mushroom and stock and process until it has the consistency you desire. Return mixture to pan, add in spices and vinegar/wine and simmer for 5 – 10 minutes.
Sauteé the thin or sliced mushrooms in some more bacon grease over high heat until they are browned and aromatic. Ladle soup into bowls and garnish with thyme, pepper, chives & sea salt. Serve and deeply enjoy.
* If you want to go for extra special bonus points, you could make some bacon first. Set aside. Pour off half the grease. Cook the first batch of mushrooms in the grease. Deglaze. Cook second batch of mushrooms in more grease. Make the soup and add in bacon when you puree + crumble some extra (yes, I implied that there is such a thing as extra bacon) on top.
** Since this is a replacement for wine, you want a vinegar that is smoother with less of the acidic bite.