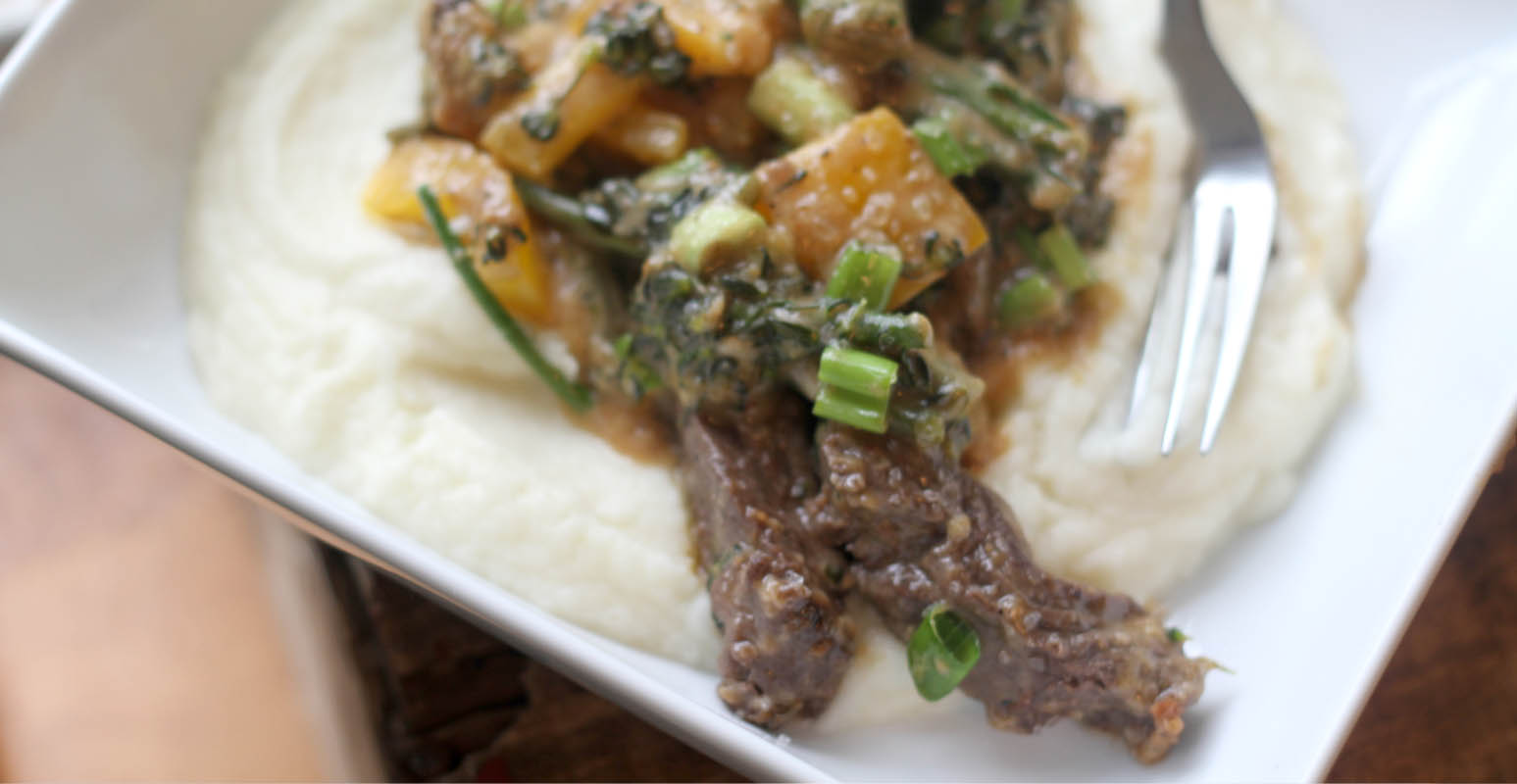 The magic of this dish is the sauce. My acupuncturist told me that I need to eat iron sources with foods heavy in vitamin c to help with absorption – which made me think all the way back to when I started focusing on learning on how to be a good cook. There was this dish that I didn't know how to save, it was some sort of "thai" peanut orange chicken concoction that really wasn't great, but I always knew it could be. With this version, the orange is a bright note offsetting the earthiness of garlic and fish sauce making for a very happy sauce.
The vegetables in this dish could be any that you like: mushrooms, kale, carrots, whatever, it was just that I had broccolini and a yellow pepper that looked less than optimal in my refrigerator, so it was time for them to be cooked. Also, a bit of cilantro would go a long way to continue that happy brightness.
12 oz grass fed beef strip steak
2c broccolini or broccoli
1 yellow pepper, chopped
2 green onions chopped
sesame seed oil (or other cooking fat)
2/3c fresh squeezed orange juice
2T cashew butter (or peanut butter if you partake in the legume)
1T coconut aminos (or a lesser amount of soy sauce, if you partake in the soy)
1t fish sauce
1t garlic, minced
1t sirracha or red pepper flakes
salt to taste
Heat cooking oil until shimmering. Sear beef on both sides until browned. Cut into strips along the grain and cook until all is browned, set aside. Add broccolini or broccoli to the pan and saute for a minute or two, add about 1/3 c of water to the pan and let pan steam until all the water is gone.
While meat & veg are cooking mix together all sauce ingredients, but don't worry about them being well combined. When water is gone from the pan, add in sauce ingredients and beef and stir while it's cooking and bubbling. When sauce has thickened to your desired thickness, add in another splash of juice, yellow pepper and green onion.
Serve over cauliflower puree. (1 head cauliflower, steamed until easily pierced with a fork; pureed in blender or food processor with 2T bacon fat and salt.)